At Blink Eyewear, our optometrists near you want to offer the very best in eye care. That's why we provide expert eye care with a smile. With Blink Eyewear, you can be guaranteed of exceptional treatment.
Our mission is to make a visual difference in the quality of life of our patients. By providing expert eye care, superior products and brands, and exceptional service, we build lasting relationships with our patients. Each person receives unique, specialized care with a smile, and we hope to help every patient that needs it see properly while looking better.
Here are the advantages of choosing our optometry practices in Creekside, West Springs & Crowfoot, Calgary:
Experienced and caring Optometrists and staff that have been in the business for years, and knows what is best for you and your eyes.
Brand name designer eyewear if you're looking for a vast range of brands to choose from.
Superior, high quality lens products that improve your eyesight and give you a crisp clarity with your vision.
Advanced eye-care diagnostic technology that allow us to detect eye disease early and when it is most treatable.
Three convenient locations and evening & weekend appointments: Creekside (T3P 0A3), Crowfoot (T3G 4J8), and West Springs (T3H 0J5).
Meet Our Eye Doctors in NW Calgary: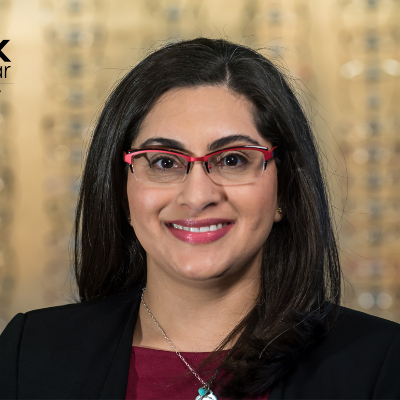 Dr. Adatia graduated from the University of Waterloo, School of Optometry in 2001. As part of the program, she did an ocular disease externship with Houston Eye Associates in Houston, TX. After graduating, Dr. Adatia went on to complete a residency in Low Vision and Geriatric Optometry at the Centre for Sight Enhancement at the University of Waterloo.
Having been born and raised in Calgary, AB, Dr. Adatia moved back in 2002 to work in private practice in various clinics around the city. After gaining a wealth of knowledge and experience she started Blink Eyewear in 2008.
Always greeting you with a smile, Dr. Adatia provides an exceptional eye care experience for her patients.
Dr. Adatia is a member of the Calgary Society of Optometrists, the Alberta Association of Optometrists and the Canadian Association of Optometrists.